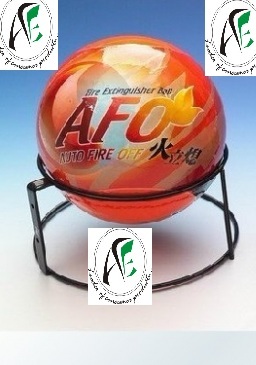 AFO FIRE EXTINGUISHER BALL
Price And Quantity
Product Specifications
Product Description
Product

Fire Extinguishing Ball
Trade Name : "Auto Fire Off"
Dimension : Sphere, Diameter 14.5 cm
Gross Weight : 1.30-1.50 kg
Chemical Weight : 1.25kg
Fire Extinguishing Agent : Non-Toxic Mono Ammonium Phosphate

Fire Rating : 1A*, 5B*, C*
* Container : Outer layer of Pent foam, about 11 mm thick shield by PVC film
Function : Flame activated

Features Auto Fire Extinguisher Ball
• Self Activating


-The Fire Extinguisher Ball works automatically when in contact with fire.
-Install within 30 centimeters over any fire hazard.
• Alarm

- When the ball explodes, the built-in alarm goes off releasing an approximately 138 decibel noise
• Lightweight

- Weighing at 1.3kg, it is suitable for anyone. Women, children and elderly people
• Easy to use

- No training required. Just throw the ball with one hand into the fire
• Safe

- No need to get close to the fire.
- The ball will not self-ignite when shaken or damaged
- The outward driving force from activation of the ball does not harm human or environment
- Non-toxic to the environment. Fire Extinguisher Ball is made from human and environmental friendly materials.
• Fast and effective

- It activates within 3 seconds after contacting the fire
- When used together with two or more balls, it can suppress a large fire
Why Is "Auto Fire Off " Fire Extinguisher Ball So Unique
"AFO"
Fire Extinguisher Ball

Conventional Fire Extinguisher

It is the only portable fire extinguishing device in the world that

Auto Activates

when comes into contact with fire !

Must be manually operated in order to function.

AFO

burst effect upon activation also emits a loud fire-alert sound of 138db points, creating an effective fire alert to surrounding people.

No fire-alert activation when fire-breakout. Thus, fire doubles in size every minute without warning to the surrounding people.

Extremely light (1.3kg), AFO is the only fire extinguisher in the world that is handy enough for use by females, elderly citizens or even children.

Heavy, averaging about 10kg to 15kg including contents.

AFO is uniquely designed to avoid re-filling of powder, etc, with long durable maintenance free life span of 5 years (tropical zone) and 3 years (cool zone), saving time, cost and hassle to upkeep such devices.

Periodic maintenance cost.

Don't have to get close to fire, just roll into fire from a distance for activation.

Need to maintain close proximity with the fire, aiming at the base of fire is a must.
MRP RS. 2700/- MOP RS. 2025/- DP RS.1525/-
Thanks & Regards

H.R. RINWA
Akshay Enterprises
Jaipur off:- 309,3rd Floor City Plaza, Space Cinema,
Bani Park, (302016) Rajasthan, Ph-01416599205,6000040,09783396673
09214396673,09214396674.09214396675
,

Delhi off:- 1732,Nai Basti Near Ram Mandir
Naya Bazar Delhi -6, Ph-01141407560,08826408315
,
www.nayabazzar.com
www.nayabaazzar.comwww.mlmproductsansar.comwww.usayvhave.comwww.consumerproducthub.com
www.gassafetydeviceaha.com
www.gassafetydeviceaha.in
www.gassafetydeviceahasupplier.com
Leader Of Consumer Products
*Value & Service Guaranteed*
Trade Information
Sample costs shipping and taxes has to be paid by the buyer

Box
Contact Us
1238, Second Floor, Rang Mahal, Novalty Cinema, Near Old Delhi Railway, Delhi, Delhi, 110006, India
Phone :+918037404742